Taking trains in Uzbekistan is a low-stress, inexpensive way to get around the country and visit the main sights and cities like Tashkent, Samarkand, Bukhara, Nukus, Khiva, Termez or Ferghana Valley. Besides the slow Soviet trains, Uzbekistan invests in new high-speed connections between the major cities.
From Uzbekistan, trains also run to Kazakhstan, Tajikistan and Russia, and in summer, to Kyrgyzstan.
Prices and timetables
The site of the national railways of Uzbekistan may or may not work, and may or may not have reliable information on its train schedules.
As a back-up, you can find prices and timetables at the online booking site of Tutu.
Buying tickets
Beware: trains tend to sell out, especially fast trains to/from Tashkent. Book in advance if you can to avoid getting in a shared taxi or plane instead. However, not too far in advance: tickets only go on sale 45 days before departure.
People do cancel their train tickets. Keep checking back in frequently enough and you should be able to snap up a freed-up seat on a fully-booked train before anyone else.
Online
With Uzbek Railways
Online booking for trains has started since August 2018. You can book here or here, there is an app as well. Reports on the process are gathered in this forum thread. Online booking didn't work well for many years but post-pandemic most experiences have been smooth, although people recently started reporting that there are absolutely no tickets for sale for some routes.
There is no need to print your ticket anymore.
With other platforms
If you are still having trouble booking through the Uzbek Railways site, you can try the following. There is Russian booking giant Tutu.ru, but for some trains outside of Russia, you still need to pick up the ticket in a Russian train station.
Tutu will issue a warning if you have to collect the ticket in Russia (trying to wing it in Uzbekistan is not advised). However, at least 1 person has been able to get on a train with a simple print-out, where officially he needed to pick up the ticket in Russia.
Kazakhstani platforms are perhaps the easiest option. There's Tickets.kz, Aviata and Chocotravel. Belarusian Railways has also been advised as a good booking platform.
Offline
You can also buy train tickets at the train station yourself of course. Once again, do this a few days in advance to ensure you have a seat. You might see a huge, slow-moving line in front of you on arrival at the train station. To skip this, go to the VIP desk, usually on the other side of the station, and buy your tickets there. Usually there is no one, and it will cost you just a dollar or so more.
A better option than the train station is the ticket office inside the city. It has a central location, and usually smaller lines. Every city has one.
Cancelling tickets
Is possible, and not difficult. Just return to the ticket office and ask to cancel the ticket. You will get your money back minus a little commission of around 10% of the cost of the ticket.
Seat and train choice
Slow Uzbek trains have the standard Soviet platzkart (open wagon), kupe (4-berth wagon) and SV/Lyux (2-berth wagon) options. Fast trains are not sleeper trains, they have only seating space. There is quite a bit of variation in what each individual train offers, but in general, fast trains are divided in a 3rd class without AC, a 2nd class with AC and a 1st class where it's 2 seats in a coupe.
If you are confused about this choice, read the overview page on the Silk Road by train for more seat buying and route planning advice.
The train conductors in Uzbekistan often allow you to upgrade your seat on the train, if there is space. Usually there is, even if you were told at the ticket office the best seats were booked out; it is a type of corruption.
The train experience
Come on time for your train. Security measures at the train stations are stringent and can take up to half an hour, even more in extreme cases. On the other hand, trains are not immune to being delayed for 1 or 2 hours. Do not plan tight connection times.
Every train has a restaurant wagon. Good place to recharge your phone on older trains (which don't have a lot of charging points), and have a chat with other passengers.
Fast trains
These trains are relatively new, clean and spacious, and are equipped with functioning air conditioning. 2nd class is the best price/quality option in our opinion. The atmosphere is closer to that of a roomy airplane rather than a train, and you will have to put up with TV's pumping out Turkish soap operas, but the speed is usually worth the trade-off.
They are not more expensive than slow trains.
Slow trains
Disappointingly, some of the older trains are not as clean as trains in Kazakhstan or Turkmenistan. Nothing disgusting, but berths can be dusty. Everything feels a bit old and in need of an upgrade. A samovar for hot drinks is posted at the end of the hallway, and you can usually order breakfast from the train conductor (eggs and sausages is standard).
Chatting and sharing food with your fellow passengers is almost obligatory in these trains. We never saw much alcohol here, but as far as we know, getting drunk on the train is still allowed in Uzbekistan.
Rail network and tips on route planning
Fast trains roll along the following lines
Tashkent – Bukhara (4 hr)
Tashkent – Samarkand (2 hr)
Samarkand – Bukhara (1,5 hr)
Tashkent – Qarshi – Shahrisabz
Slower trains make the same journey at different speeds, usually around 1,5 to 2 times as slow.
Other domestic lines are:
Tashkent – Kokand (4hr) – Margilan – Andijan (5h30 hr)
Tashkent – Samarkand – Urgench – Nukus – Kungrad – Atyrau (KAZ)
Tashkent – Samarkand – Qarshi – Termez
Tashkent – Samarkand – Qarshi – Denau – Sariasya
Note that since 2018, train service between Bukhara and Urgench (Khiva) has started. Previously, a good option to do it all by train and maximize sightseeing time was to take the slow night train from Tashkent to Bukhara, backtrack to Samarkand by fast train, then take a night train west again to Urgench or Nukus.
This advice still holds, but it means there are now more options.
Also, a new station has been built in Khiva (previously you had to get off in Urgench). Questions and updates regarding this line are welcome at the Khiva train forum thread.
Trains to Kazakhstan and Russia
There is a direct train between Nukus and Aqtau (Mangyshlak on booking websites), stopping in Kungrad. If you are heading to Atyrau and Russia instead, get off in Beyneu (Aqtau-Nukus train reports and Q&A).
From Tashkent you can take a train to Almaty via Shymkent. It used to be quicker if you crossed the border to Shymkent by marshrutka and took a train from Shymkent to Almaty instead. The issue was a 4-hour border halt: very hot in summer as the AC switches off.
However, since 2017 a direct Talgo-train links Almaty and Tashkent in about 16 hours, 10 hours quicker than before. The train runs thrice-weekly either way. Experience reports welcome here. You can take your bike, but it's uncomfortable.
If you prefer the slower version, train number 21 still runs from Almaty to Nukus. On this train, Almaty – Tashkent takes 26 hours (with long border halt). To go to Nukus, add another 24 hours. This train also stops at Samarkand. Prices fluctuate and the slow train could be more expensive.
Uzbekistan is connected directly with the following Russian cities (transiting Kazakhstan): Moscow, Ufa, Novosibirsk, Samara, Chelyabinsk, Saratov and Volgograd.
Several of these trains dip in and out of Kazakhstan before entering for good, but we have been told that you do not need multiple entry visas for these routes. But please, double-check before you leave!
A seasonal train runs Samarkand – Tashkent – Astana in summer.
Trains to Kyrgyzstan
A summer train runs between Tashkent and Bishkek with final stop at Balykchy (Issyk-Kul). The train passes through Kazakhstan, so make sure you have a valid visa if you need one. Usually, it runs from April to September, but it often takes time before someone unearths the schedule for the season. It is never certain beforehand if the train will run at all this year.
Reports and questions are collected in the Tashkent-Bishkek train topic, where you can also find the 2019 schedule.
Kyrgyz Railways uses Moscow time and Kyrgyz time intermittently, so make sure you know what time the train leaves.
Trains to Turkmenistan
There are no trains between Uzbekistan and Turkmenistan.
Trains to Tajikistan
A Tajikistan – Russia by train forum topic tracks changes and trip reports of routes to Moscow.
Dushanbe – Moscow: It has become a lot easier to take this train since it no longer passes Turkmenistan, and onerous visa requirements have been abolished for many nations. The train previously did not have stops in Uzbekistan – it does now, though.
Currently, trains to Moscow do not actually end in Moscow due to infrastructure works, instead stopping in Volgograd or Samara.
Do check out this mini-documentary on the labour migrants taking this train – well worth your time.
Khujand – Samarkand – Moscow: Pre-pandemic, if stopping at Samarkand, you could only buy tickets online for this train on Russian booking sites like Tutu and on the Uzbek Railways website, but not on the train station. This might no longer be the case. Updates welcome here.
Tashkent – Samarkand – Dushanbe
Since 2022, a Tashkent – Samarkand – Dushanbe train, for the first time since the collapse of the Soviet Union in 1991. It currently runs once a week and takes 18 hours.
Some good reports have been written on the booking process and the train experience in the Tashkent – Dushanbe train thread.
Train stations
Luggage room
Like elsewhere in Central Asia, all major train stations have a luggage room open 24/7 where you can deposit your luggage for a small fee. In Russian, it's called a "kamera khraneniya".
Bukhara train station
Bukhara's backstreets are filled with treasures. Kagan, the settlement built by the Russians to house the railway station when Bukhara was still an independent emirate, holds, among other things, the Kagan Palace – definitely worth a short detour when you are heading out to catch the train.
Water towers
Train stations in Uzbekistan have kept some of their traditional water tower architecture. Of special significance are the Shukhov towers, important legacies of modern architecture but mostly destroyed in the rest of the former Soviet empire. You can find them near stations in Samarkand, Bukhara and Termez.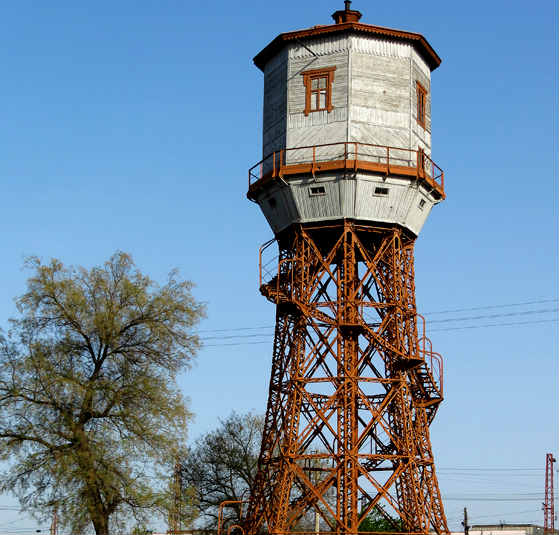 Onward travel
Silk Road by train
More on Uzbekistan