This is a guest post written by Goats on the Road.
Without a doubt, the Pamir Highway is the most naturally scenic part of Central Asia. Snowy peaks tower overhead, crystal clear rivers cut through the jagged, high-altitude terrain and tiny villages freckle the paths all the way from the Kyrgyzstan border in the north, to the town Khorog in the south. Tajikistan is a great place to travel for many reasons, but surely the most evocative aspect of backpacking through this rugged and astoundingly beautiful nation, is the chance to enjoy a trip on the second highest road on Earth… the Pamir Highway.
Below are our favourite photos from this incredible journey. Enjoy!
Note: For more about travelling in Tajikistan, check out: The Ultimate Guide To Backpacking Tajikistan
If you're planning a trip to Central Asia and haven't yet confirmed a road trip on the Pamir Highway, we hope that these photos have inspired you to set the adventure firmly on your travel itinerary. We took two weeks to travel from the Kyrgyzstan border near Osh, all the way down to Khorog, but we could have taken two months. This is simply one of the most visually stunning stretches of road in the world. So, get your GBAO permit and get ready for the experience of a lifetime!
Author's Bio:
Nick and Dariece are the couple behind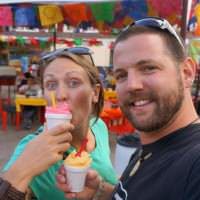 Goats On The Road, a website designed to show others how to turn their travels into a lifestyle. Masters at making money abroad, they've been on the road since 2008 and have explored some of the least visited places on earth.
They're also full-time contributors at Credit Walk where they share their expertise in long-term travel.