Turkmenistan is not well-known as a travel destination. So far, the main reasons for visiting have been the difficult visa process, the astounding marble capital of Ashgabat and the flaming gas crater known as the Door to Hell.
There are other sights to see, detailed below, but for us, much of Turkmenistan's charm lies in meeting its people. We love them for their unassuming manner, their openness despite the intense scrutiny from the top. Turkmenistan is much more fun than you would imagine.
Like North Korea, the country's political system is a reason to visit all on its own. It can be disturbing, but not always in the way you would expect. Talk to people, and make up your own mind.
Unrelated, we think their food is the best in Central Asia.
Highlights
Lean into the gas crater of Darwaza in the desert twilight
Be blown away at the sight of Ashgabat, the White City
Visit the spectacular Yangykala canyon
Try to get your head around Turkmenistan's frightening politics
Learn about Turkmenistan's ancient empires at Merv & Gonur Depe, Konye-Urgench and Nisa
For more ideas to plan your trip around, see our list of the 63 top things to do in Turkmenistan.
Itineraries
Blue route
95% of all travelers in Turkmenistan will take the blue route, going between Mashad and Khiva or Nukus in Uzbekistan. On the way, you get to see Ashgabat (1), the Door to Hell (2) and Konye-Urgench (3).
It's a good itinerary, because you get to see something new (Ashgabat), something ancient (Konye-Urgench) and in between you can experience the Karakum desert and its strange delights (Door to Hell), all within the 5-day time span that a transit visa allows.
Green route
Those arriving by ferry in Turkmenbashi (4) tend to take the green route to Ashgabat with a few stops in between, and then follow along the blue line north. However, if you are really into history and archaeology, you cannot miss Merv and Gonur Depe (6). In that case, follow the green line from Ashgabat to Mary and Turkmenabat and enter Uzbekistan at Bukhara.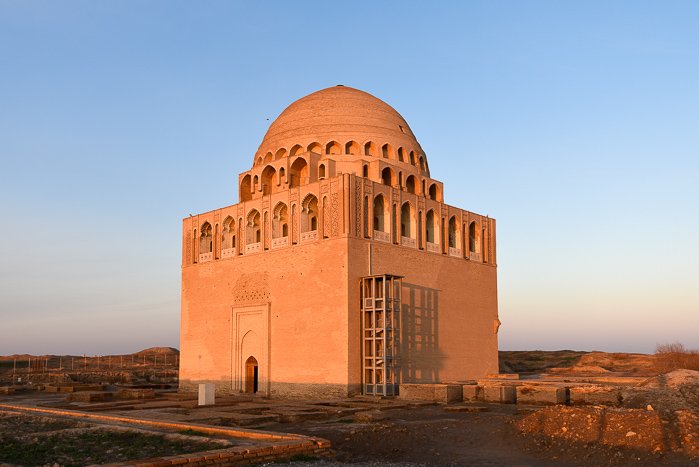 Red route
With a tour or a decent off-road vehicle, you can tackle the desert route, taking in Yangykala Canyon (5), as well as some remote settlements, shrines and long-abandoned fortresses.
There are definitely other routes possible and more things to see, but with the limitations that travel in Turkmenistan has, this is what the majority of tourists go for. Continue your research at the border crossings page, or with these maps of landscapes and historical sights in Turkmenistan.
Central Turkmenistan
The modern developments of Ashgabat are stupefying. Their size and splendour must leave you speechless for a moment. Old Ashgabat on the other hand, is a surprisingly lively, leafy town of Soviet make. Nearby, visit the Parthian site of Nisa, and the blasphemous Kipchak mosque.
There is countryside too. Nokhur is a traditional village with homestays at the foot of the Kopet Dag mountains straddling the border with Iran.
Konye-Urgench is locally known as the Mecca of Turkmenistan. Its ancient architecture is thought-provoking. Turkmenistan's particular brand of Sufism pervades every tree, well and ancient piece of brick in the country, but here its odor is particularly pungent.
Halfway between Ashgabat and Konye-Urgench lies the Door to Hell of Darwaza. Its blazing fireballs and unhealthy vapor are as awesome as they are epic. Casting irony aside, it is a unique sight and well worth visiting. If nothing else, a night in camp will give you a hint of the magic of the desert.
Those with more budget and a desire to see something truly different can get a custom tour into the heart of the Karakum desert. Meet the locals, and find yourself in a seldom-visited part of the world.
East Turkmenistan
Turkmenistan has an important place in the history of the many Persianid empires of the past 3 millennia, and unlike in Uzbekistan, the mind really gets the opportunity here to delve into those histories, as few things are rebuilt. You can find relics all over the country, but Merv is the most important site.
In the far east of Turkmenistan lies the Kugitang reserve, home of dinosaur footprints and sulfur springs.
West Turkmenistan
The ancient Tethys Sea has carved capricious shapes into the desert floor in a rainbow of colours. Yangykala Canyon is breath-taking, but it's a long drive. Adventurers with time and money can consult our landscapes itinerary to find pistachio forests, mud volcanoes, desert birds and an underground lake.
On the coast, Turkmenbashi is a somewhat cosmopolitan port town with a good bazaar and a resort town vibe. People come here for the Caspian Sea ferry, or to take the road north towards Kazakhstan's Mangystau.
Avaza is a type of Ashgabat-on-Sea. It is still overpriced for foreigners, which is too bad, because it really is a nice place for a beach holiday. In summer it is packed with Turkmen families enjoying the sea air. Come out of season to enjoy that uniquely Turkmen zombie-takeover vibe.
Transport in Turkmenistan
If you are on a tourist visa, you will be traveling in a 4×4 with your tour guide while visiting Turkmenistan, while perhaps also taking an airplane or a train for a large transfer.
Ashgabat is the only city with international flights in and out of Turkmenistan. Online booking does not work yet for Turkmenistan Airlines, so if you are flying with them, you have to buy your tickets through an agent.
For independent travelers without their own means of transport, this leaves the train or the (shared) taxi. Some buses also exist. All 3 are inexpensive and relatively comfortable ways of getting around Turkmenistan.
Minibuses and taxis leave when full, while large buses leave according to a timetable; we recommend taking a minibus or taxi for comfort and speed. Roads are generally good – see driving in Turkmenistan.
In cities, gypsy cabs or buses will take you around. Winter has little effect on the transport system in Turkmenistan.
For overland cross-border transport, see Turkmenistan's border crossings.
Practical details
Basics
Have a look first to make sure you understand the visa situation in Turkmenistan. We discuss possible safety concerns in detail, but generally speaking, Turkmenistan is a very safe destination. Political repression has its perks. Health-wise, diarrhea is the number one danger in Turkmenistan.
Generally speaking, food in the region is unhealthy and of little variety, based primarily on meat, fat, pasta and dairy products. Few tourists become fans of the tastes of Central Asia. But in case you do like Central Asian food, Turkmenistan represents the best cooking, in our experience. If you don't, have a look at the options for picky eaters.
The money situation is complicated. Exchanging at the bank is a bad deal. Instead, there is a black market for dollars where the rates are several times higher.
Taking out money from an ATM or paying by card is unheard of. Likewise, buying a sim card and accessing the internet in Turkmenistan is a complicated affair. We go into more detail in our articles on money and banking and communications in Turkmenistan.
For orientation, Maps.me is often better than Google maps. If you are a reader, have a look at our favourite books on Turkmenistan.
When to go
It gets very hot in Turkmenistan. The further away you are from summer, the more bearable the temperature gets. That's really all you have to keep in mind.
For a more in-depth appraisal, see when to visit Turkmenistan, and events and festivals in Uzbekistan.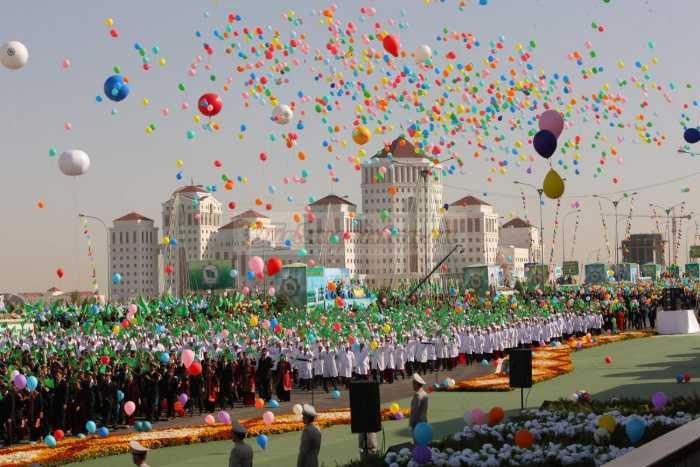 Budget and accommodation
After Turkmenistan's dictators rid the country of its critical thinkers and spent all of its natural wealth on marble and gold, the economy is now ruined. Lines for bread. Paying in cigarettes. It's not expensive to travel on a transit visa: 1 euro for a basic meal, 10$ for a bed in a basic hotel.
If you are on a tourist visa, the government forces a different price regime on you: expect to pay around 150$ per day for all your expenses. We go in depth on the budget question at the Turkmenistan travel budget page.
Turkmenistan has a decent hotel in every city, but for budget travelers on a transit visa, choice is limited. We discuss your options for cheap and expensive hotels, camping, couchsurfing and more in the accommodation chapter.
Tours and tour operators
It took us some time but, over the years, we have gotten to know a number of reliable Turkmen tour operators on the ground. Artur is a tour manager in one of Turkmenistan's largest and oldest tour companies. Guvanch runs a small-scale, nimble operation outside of the capital.
Have a look at our Turkmenistan tour template suggestions for trip ideas, or immediately send us your own thoughts for a customised tour.
Next destinations
More country guides
More on Turkmenistan